Pen Lots-Buying in Bulk
Finding a box of old pens at an estate or yard sale is a collectors dream come true, and it happens everyday all across the country! If you are they type of person who enjoys treasure hunting during the summer months, this is a great way to source vintage luxury pens for your collection.
It is also the cheapest. Most of these estate sales are set up for the main purpose of eliminating the contents of the home while making a little money too, but the focus is emptying the home no matter how discounted the items for sale must be marked down! If you are diligent in attending these sales, you will eventually get lucky and hit the jackpot on a drawer full of antique writing instruments left behind from years gone bye.
Some nice "repair-parts" finds shown here.
Estate auctions are good too, however the down side of these is that there are almost always a few dealers in attendance who know the value of collectibles, including fountain pens and old mechanical pencils. Still, good deals can be found if you attend enough of these and keep your eyes open.
---
"The best selection of Vintage Pen Lots can be found hiding out on eBay at low, discount prices!"
---
One of the best sources for old collectible fountain pens (and my personal favorite) are online auctions, like eBay, and the huge selection of "pen lot" listings! Quite often people who are in charge of cleaning out a deceased or older relative's house will stumble upon a drawer full of old fountain pens and other writing instruments. Knowing they are old, but not really interested in keeping them, they will often place the entire lot on eBay and sell to the highest bidder. This is great news for us collectors!
Unique finds like these make for a nice ending to a long day of hunting!
Amongst that mess of pens is often a few decent finds, worthy of adding to your collection or display. The price paid for a "lot" is often far cheaper than purchasing individual pieces. You never know what you will find in a lot like this, especially the larger listings of 20 or more pieces. Imagine finding an old Montblanc in good condition, or a classic ladies Cross with the original box! Finds like these happen all the time with "lot" sales.
Lot finds like these are easy to find on eBay. From huge, mega lots, med 6-10 piece listings or small 2 or 3 pen auctions, you can't go wrong with the savings on a good lot buy!
---
"Build your collection with eBay Vintage Pen Lots and save money!"
---
Buying in lots is also a good way for new collectors to get started. You can jump-start your collection with a few good bulk buys and sort out the junk from the keepers. In time, you can start buying individual classic, vintage brands & models to complete your sets. Even after your collection has grown, you'll likely continue to seek out these bulk sales as they can bear incredible finds!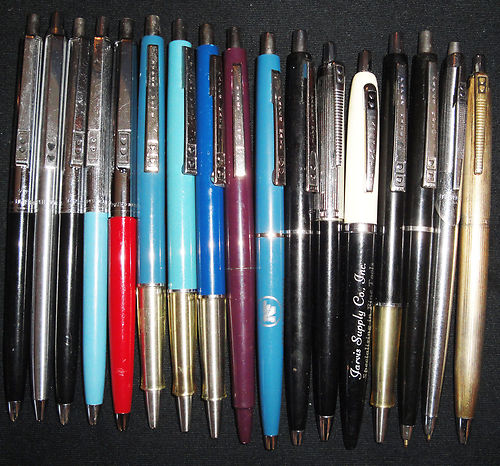 Paper Mate pen lots are easy to find. These pens are in great condition!
If you are in need of parts for hard to find or pricey antique pens, buying in lots can be a very inexpensive way to get your old pens back in prime working condition without breaking the bank. Select the pen or pens you need the parts from out of your lot buy and then simply re-sell the lot again! You might even make a few bucks re-selling, but no matter what, it will likely be worth buying the entire lot to fix just one good pen you have that is now in better shape than before the new part was added.
Parker vintage pen lots are very popular with eBay sellers.
When searching for these deals on eBay, try to find new listings with a "Buy it Now" option. The best buys will be from sellers who fit the description from above, (assigned the task of cleaning out a home) who know nothing about these collectibles. They often place a low BIN price on their listing which you can take advantage of. If the listing sits for any length of time, and there are highly sought after pens in their lot sale with a low BIN price, you can bet a collector will see it and snap it up right away, so you must check back often. Of course, not all listings offer the BIN, many of them will be auction format that you'll just have to bid on and wait until it's over to see if you won.