Pilot Pens-Pencils-Gift Sets-Namiki
The Beginning-Pilot Pens
In 1915, Ryosuki Namiki began working in the pen industry by manufacturing gold nibs. By 1918, he had started the Namiki Manufacturing Company, which produced writing instruments. His first brand was Pilot. In 1924, the Namiki Company expanded its catalog with hand painted and lacquered pens known as Maki'e. The pen style is famous for its durability and resistance to fading. In addition, Maki'e pens feature a variety of designs. Collectors may locate models with a picturesque garden scene, dragon or a samurai warrior. When collectors purchase a Maki'e pen, they will have an item with remarkable detail as well as one of the most expensive pens sold throughout the world.
Early Pilot pens may include a lacquered base, which makes them stand out against pens made by other companies. During the late 1920s, Pilot pens became available worldwide, and in 1930, Namiki collaborated with a British pen producer named Alfred Dunhill. Collectors may locate vintage writing utensils called Dunhill-Namiki pens. Dunhill produced the writing utensils 1930 to 1940. World War II caused tension between the two companies, and Dunhill stopped making their collaborated products.
In 1961, Pilot began producing ballpoint pens. However, the company continued its fountain pen production, and in 1964, Pilot introduced a "capless" model with a retractable nib.
---
---
1950s Lever Filler Fountain Pen
When collectors buy a Pilot fountain pen from the 1950s, they will have a device with a 14-karat gold nib. Also, the pen has the Pilot name embossed on the end as well as a gold clip and a bright gold band around the base.
Vintage collectible pilot pens like this one are purchased on eBay everyday.
1960s Pilot Fountain Pen
Pilot's 1960s fountain pen is a classic writing implement as it features a traditional black base. The device has a lever-filling unit for the ink and a 14-karat fine gold nib. The clip is light and dark brown. In addition, the company embossed the name "Pilot" on the black base below the gold band.
1964 Pilot Capless Pen
The Pilot Capless fountain pen is a popular collectible as it is a mixture of technology and lavishness. The writing unit has a push button located in the end of the pen, which will extract the nib back into the unit's body when a user compresses it. The technology features an airtight seal to prevent the pen from becoming dry. In addition, collectors can use ink cartridges for drawing or writing. The nib is made from a special alloy, and collectors may locate the model in deep blue.
Vintage capless Pilot pens are a favorite amongst collectors.
1970s Pilot Fountain Pen
When collectors purchase vintage Pilot fountain pens from the 1970s, they can choose to buy the item in black or red. The model features a silver metal clip and screw on and off cap. The fountain pen has a system-filling cartridge along with a stainless steel nib that confirms the writing device's manufacturing location in Japan.
From 1970 until 1980, Pilot made the Pink Fountain Pen. The writing device has a 14-karat gold nib along with a pink base and a gold cap.
Pilot Pink Cavalier
Pilot Ballpoint
Pilot's ballpoint bridge scoring pen is a writing device that collectors may consider purchasing for a display. The pen has a striking cherry wood handle as well as a brass enhancement near the tip. The end of the pen also features a brass embellishment. Furthermore, the ink is extra fine black, and collectors may be fortunate enough to locate a model with its original box and paperwork.
---
---
Advertising Pilot Pens
With the fine artisanship of Pilot pens, many models feature company advertisements since companies were eager to market their business on a quality product. When shopping for an advertising pen, collectors are likely to locate classic black base models with a company logo stamped in the center. Collectors can buy the style with a gold or silver cap, and early versions are usually fountain pens.
These beautiful Pilot pens would enhance any collectors display!
Pilot Sterling Silver Namiki Fountain Pen
Pilot's vintage sterling silver pens are striking due to their detailed base. Collectors may purchase models that feature an embossed dragon design as well as an 18-karat gold nib with the name "Pilot" stamped on the flat side.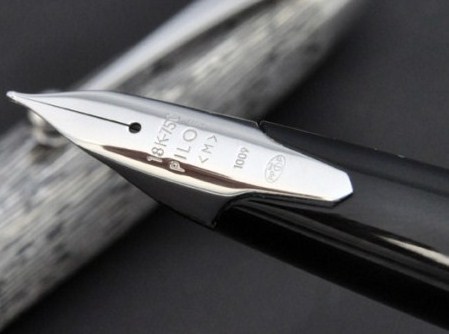 The Namiki fountain pen is likely the most prized of all collectible writing instruments.
The Pilot 925 is another sterling silver model that features unique craftsmanship. The company manufactured the pen in Japan with an 18-karat gold nib. It also has an ink cartridge. The pen measures 14 mm in diameter and is 143 mm long. Moreover, the pen's design is unique as it is based on ancient lattice stone, which was a popular material used on the streets in Okinawa.
Any one of these would look just fine in my collection!
Conclusion
A vintage Pilot pen is a valuable collectible that will add style to a classic pen collection. Since Pilot continues to make quality writing devices, collectors may consider buying a new pen for future generations to collect.