Urushi Pens-New & Vintage
Urushi Pens
Urushi is a natural lacquer that is extremely durable. Artisans enhance a number of products with Urushi including bracelets, pottery and furniture. The substance comes from Urushi trees, which producers grow in Japan, China and on the Korean Peninsula. People have used the substance for many years. In fact, archaeologists have discovered artifacts featuring Urushi that date back more than 9,000 years. In addition to its immense durability, Urushi is also an exceedingly strong adhesive before it dries.
Urushi's attributes make the substance ideal for pen designers who enhance their writing units with decorative embellishments. However, pen producers did not start using the material to enrich their writing devices until the 18th century. Pen artisans use Urushi lacquer to add gold foil, mother of pearl and gold powder to a pen's exterior base. The substance also increases the pen's durability. Urushi pens improve with age. Therefore, collectors frequently prefer to add a vintage Urushi pen to their collections. Writing device collectors can buy Urushi products from different pen producers including Kamakura, Namiki and Danitrio.
---
---
Vintage Sailor Kamakura Fountain Pen
A vintage Sailor Kamakura fountain pen in red is a unique collectible. The company produced the pen's base and cap from ebonite, which is vulcanized hard rubber, and then coated the device in Urushi. Writers will enjoy owning the pen as it provides line variation while a user is printing. The model has a number four iridium tipped Shiro nib along with a fine point. In fact, the pen is perfect for copperplate style calligraphy. The red Sailor pen also includes a Japanese eye drop filler. Eye drop filling units were more popular in Japan because the device sealed the ink inside of the pen. Therefore, it was less likely to leak on a valuable silk kimono.
Namiki Fountain Pens
The Namiki Emperor fountain pen is another writing device that features Urushi lacquer. Collectors may locate the pen with its original wooden box and papers. In addition, the pen is 6 6/8 inches long with a medium sized nib. The company stamped its name on the clip and the nib. Collectors will appreciate the pen's classic black base and gold accents.
The Yuakari Royale is an alternative Namiki pen that includes the Urushi coating. Collectors will recognize Namiki pens by the device's clip, which features a ball on the end. The company also equipped the pen with an 18-karat gold nib.
---
"Amazon offers a great selection of New Namiki Pens
---
Pilot Best Fountain Pen
Collectors who buy a Pilot pen with an Urushi finish will have a rare piece to add to their writing device collection. Vintage pieces that were made prior to World War II are on the market, and when collectors locate one, they will have a writing device with a 14-karat gold nib. The pen measures 5 5/8 inches and features a warm brown hue. Furthermore, the cap has a gold band around the bottom section. The clip is also gold with an attractive line pattern along both sides. Pilot manufactured the pen with a self-filling ink system that users will activate with a twist knob at the end of the barrel. When a collector is using the pen, he or she will twist the knob slightly for ink distribution. In addition, the knob closes tightly to stop the pen's ink from leaking.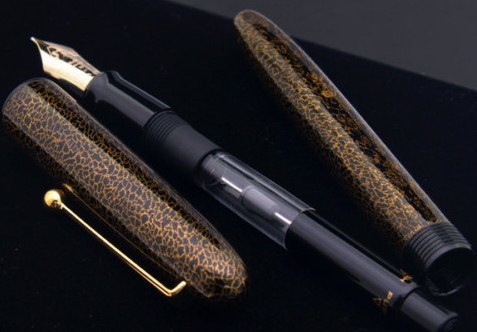 Japanese Ebonite Symbol Fountain Pen
Vintage pen collectors will find writing devices for sale from companies that have gone out of business. For instance, the Symbol fountain pen is a traditional writing utensil that features Urushi lacquer. Collectors can purchase old pens with their original boxes and paperwork. The Symbol pen has a two toned nib, and the company stamped the name "Symbol" on the base. The vintage fountain pen features an eye drop filling unit and a classic Japanese ink-stopping device, which has a center shaft to stop the substance's flow.
Modern Urushi Pens
Pen manufacturers produce modern writing utensils with Urushi. For instance, the Danitrio Company offers a 6.5 inch fountain pen that includes an eye drop ink filling system. The pen features a safety shut off mechanism as well as a two-tone 18-karat gold nib.
The Sakura-Kawa in green is another of today's modern Urushi lacquered pens. Masanori Omote produced the pen by hand using classic Maki-e master techniques. In fact, the Sakura-Kawa's pen base contains design elements that mimic wood.
Conclusion
Urushi pens are attractive and durable. When collectors purchase a pen featuring Urushi lacquer, they will have a prestigious and unique writing device.