Waterman Pen-Pencil Collectibles/Vintage-New-Sets
Waterman Pen History
The Waterman Pen Company began manufacturing writing devices during the late 1800s. Lewis Waterman was an insurance broker who experienced an embarrassing moment in which his new fountain pen would not allow a client to sign an important paper. After the incident, Waterman began tinkering with his own fountain pen design. In fact, he decided to use the capillarity principle, which permitted the inclusion of air to create a continual flow of ink. In 1884, Waterman received a patent for his pen design and called his first official fountain pen "The Regular." The innovator added wood accents to the writing creation and sold his pens from the back of a cigar store. Waterman offered his customers a five-year warranty for the device and began marketing his invention in a magazine titled "The Review of Review." As a result, his pen business began to grow.
Two Vintage Waterman's Ideal Fountain Pens
In 1899, Lewis Waterman opened a manufacturing plant in Montreal. With the added space, he was able to sell pens with different designs. During the Paris World Exposition that was held in 1900, a Waterman fountain pen received the Medal of Excellence award. Lewis Waterman died in 1901, and his nephew, Frank D. Waterman, took over the business. Frank Waterman expanded the company by selling pens overseas. In fact, orchestrators of The Treaty of Versailles signed the agreement with a Waterman pen made from solid gold.
The Waterman Company began to struggle by the late 1920s, and the United States base closed in 1954. However, the French firm thrived and took over both the British and American subsidiaries. In 2001, Sanford purchased Waterman, and the company continues to release writing devices under the Waterman brand.
---
---
About Waterman Pens
The first Waterman pens featured hard rubber construction with 14-karat gold nibs. The company sold its writing mechanisms with prestigious additions such as overlays and precious metal adornments. Collectors of vintage Waterman pens will have devices that offer smooth lines and flexible use. The company released a large number of pens during the early 1900s, and as a result, collectors will locate an abundance of vintage Waterman writing utensils for sale today.
Above: Some nice samples of Waterman pen sets. Below: These pens would look great in any collection! Waterman collectibles like these are easily found on eBay at discount prices.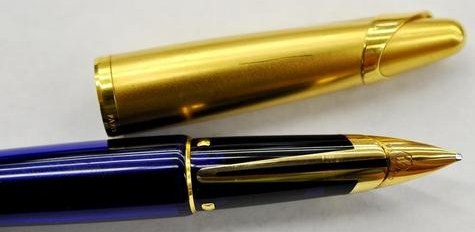 Remex
From 1890 to 1916, Waterman produced the Remex fountain pen. The writing unit features a hard black rubber base and an eyedropper filling mechanism. Collectors may find the fountain pen with its initial storage case. They should also look for the "Remex N.Y." engraving in the nib.
The Number 52
The Waterman number 52 fountain pen was manufactured from 1915 to 1929. The company sold the writing device in a variety of colors such as black, grey and red. Collectors may receive a pen and pencil set when they purchase a vintage number 52. The writing unit has a lever filler for its ink supply, and the nib features an engraving of "Manifold Nib: Imprint Manifold." The company made the pen in the United States. Waterman also produced several models with a unique cap that did not include a band. Today, these versions are highly collectible. Collectors also have the option of purchasing the number 52 in an olive ripple style. The striking writing device includes a gold clip and band as well as a 14-karat solid gold nib.
Waterman Number 32
Collectors of vintage pens will appreciate adding a Waterman Brown Marble number 32 fountain pen and pencil set to their collection. The company made the set from 1933 to 1939. For the fountain pen, users will fill the ink container using the device's lever filler while the pencil includes a removable top to give owners access to the eraser.
---
Shopping for Vintage Waterman Pens on eBay is always my first choice!" "I like Amazon when shopping for New Waterman Pens or gift sets."
---
Waterman Phileas
Today's consumers can purchase modern pens manufactured with the Waterman brand. For instance, the Phileas has a traditional cigar shape with an elegant barrel that includes a half brass lining. The model uses high-capacity refills, and buyers will own a writing device that will write smoothly, professionally and sharply. The Phileas brand includes fountain and ballpoint pens. In addition, the company produces the fountain pen to fill with a cartridge or a converter. It also has a medium sized gold plated nib while the ballpoint pens feature a dependable twist-top device. Color choices include blue, red and green.
These beautiful Phileas would look great in my collection!
Waterman Hemisphere Essential
Another of tomorrow's collectibles is Waterman's Hemisphere Essential edition, which includes a slim shape along with a medium point stainless steel nib. Consumers will fill the writing unit with a converter or an ink cartridge. The model also has a wider center band with the Waterman logo inscribed into the fine metal border.
s
Many of these fine pens can be fount on eBay at great savings!
Conclusion
Today, the Waterman Company is renowned for its many pen innovations along with its product reliability and superior quality.
Above: Waterman NOS (new old stock) is some of the most sought after pen collectibles! Below: Some nice, newer Waterman Carene pens.
Amazon offers a nice selection of New Waterman Pens at great savings!
"I like Amazon when shopping for New Waterman Pens or gift sets."